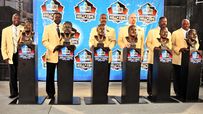 Through tear-filled eyes and sobering voices, the former players told about their commitment to their former teams and their families. The true character of the 5 men, recently inducted into the NFL Hall of Fame, shinned through, when most of them acknowledged that Almighty God had been a motivating force throughout their careers.
There are some lessons that once a Christian learns them, can change the rest of their life into the best of their life.
How Faith In God Can Change Your Life
Darrell Green stated Jesus saved my soul and changed my outlook on life. Because of him I learned I could be a man and walk right, have integrity, be honest, faithful and true.
Five-time Pro Bowler Emmitt Thomas mentioned that because of his rough upbringing, had it not been for the Lord and his ability to persevere he may not have made to the football hall of fame.
Fred Dean played in two Super Bowls with the San Francisco 49ers. He recounted in his hall of fame speech the importance of his relationship with God.
Why You Should Build Your Life On A Solid Foundation

This common thread that each inductee revealed described numerous benefits resulting from their commitment to God.
I think Art Monk's son, James Monk Jr. said it best, he described how Art exemplifies the commandment to love thy neighbor by serving his community through Grace Covenant Church and the Good Samaritan foundation in inner city D.C.
He added, his dad success as a NFL player was because he built his career on a strong foundation, the strongest rock of all, Jesus Christ.
The Ten Commandments establishes both rules and blessings for Christians. The benefits that these Christian men are experiencing as members of the Hall of Fame can be traced to how they have honored God over the years and how God has rewarded them for their obedience.